Organized in 1988, the Sotos syndrome Support Association (SSSA) is made up of families, physicians, genetic counselors, and health care agencies throughout the United States and the world. The SSSA is a nonprofit 501(c)(3) organization which is incorporated in the state of Missouri and run completely by volunteers.
The SSSA is a Member of the National Organization of Rare Disorders (NORD).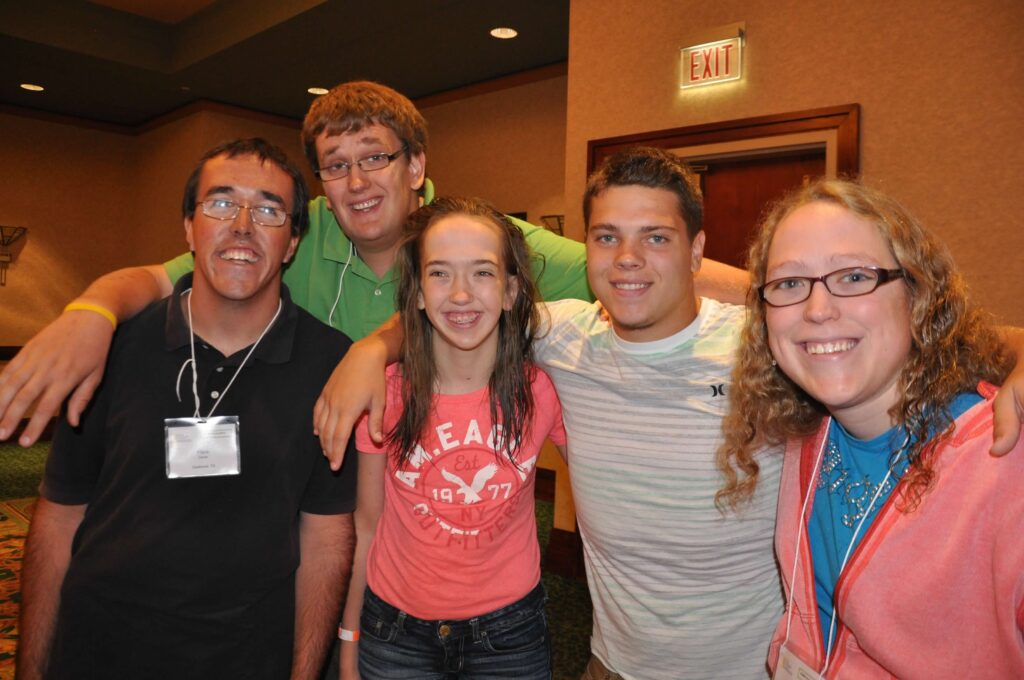 Our Mission is to provide:
A social support environment for professionals and families of individuals affected by Sotos syndrome so they can meet, exchange ideas and help one another cope with the condition.
An understanding of the condition through education.
A newsletter for members to share ideas, articles, and inspirations.
An annual meeting in which to meet, organize, and discuss association business.
An annual conference for professionals and families to network and gain insight from experts in genetics, neurology, psychology, and education.
An opportunity for professionals working with individuals affected by Sotos syndrome to collect data for research and to meet colleagues.
The volunteers that created the SSSA and continue to run the organization have always been family and friends of individuals effected by Sotos or similar syndromes. To further its mission, the SSSA provides a number of program services supported by member dues and individuals' donations.
To answer questions such as "How do I join?" or "What did you do when your child did this?", the SSSA offers a toll-free phone line 888-246-SSSA (7772). This rings into the home of a veteran member and parent of an individual with the syndrome.
To facilitate communication, an email newsletter is sent out to all SSSA members who are current with their dues. Inside, readers will find tips and stories from members, interesting articles from experts and professionals and association business.
To educate family members, doctors, therapists and teachers about Sotos syndrome, the SSSA sells the book Sotos Syndrome: A Handbook for Families and the DVD Sotos Syndrome: A Journey from Diagnosis through Life. The handbook is available in English and Spanish while the DVD is in English with subtitles in Spanish, French and Italian.
The majority of the SSSA's focus is spent on the Annual Conference. One weekend each summer over 250 people get together from Friday until Sunday to learn, network and bond with one another. A program of speakers, along with childcare and social events for the entire family are offered. Typically 60 – 80 families attend the conference from around the world.
If you are interested in joining the SSSA click on the JOIN button at the top of the page. Besides supporting the program services described above, your dues will allow you to receive the email newsletter, SSSA NOTES, and access our Members Only section of this web site.
Board of Directors
Linnea Dugan, Indiana (2023)
Racheal Riefler, Tennessee (2023)
Roberta Morgan, California (2017)
Owen Eigenberg, Missouri (2023)
Brian Hays, Ohio (2019)
Sonny Mercado, Minnesota (2022)
Desray Reeb, California (2023)
Robert Nakao, Pennsylvania (2022)
Deja Cruz, Connecticut (2023)
Support Team
Advisory Board Liaison – Michelle Mercado, Minnesota
Membership coordinator – Brian Hays, Ohio
Postmaster – Lisa Cruse, Illinois
Webmaster – Brian Hays, Ohio
Newsletter Editor – Whitney George, Kansas
Public Awareness – Whitney George, Kansas
Mailer – Nan Riefler, Tennessee
Conference Liaison – Robert Nakao, Pennsylvania
Support Team
Honorary Member: Rebecca Anderson, JD, MS, CGC
Associate professor, University of Nebraska Medical Center
Honorary Member: Bruce Buehler, MD
Professor, Munroe-Meyer Institute, Nebraska
Honorary Member: Trevor Cole, MB, ChB, FRCP
Consultant Clinical Geneticist
University of Birmingham, England
Jill Fahrner, MD, PhD
Assistant Professor of Pediatrics
John Hopkins Genetics, Maryland
Michelle Mercado, MA, OTD, OTR/L, BCP
Brett Kuhn, PhD, DBSM
Associate Professor, Munroe-Meyer Institute, Nebraska
G. Bradley Schaefer, MD, FAAP, FACMG
Professor, University of Arkansas
Lauren West, MS, CCC-SLPG
Speech Pathologist, Nebraska
Steve Dugan, DO
Alison Foster
Jacqueline Harris, MD